What
WE DO
We are currently active in 4 area's; Tourism, Events, Online and Lifestyle.
This is because we have a broad network and lots of experience in all of these fields. Our European resume, Moroccan roots and worldwide network makes us an excellent partner.
We approach existing thinking from a fresh perspective. Sometimes we add a commission research; often we do our own - we talk to people, we look at what's going on inside and outside of the business. We use all available data, online marketing tools and social media for our research. Our approach turns strategic thinking into something that is vibrant and inspiring.
We will take your project and nurture every aspect of it from beginning to end and beyond. We will help you create it, design it, build it, manage and market it. Through this full service approach your project is developed with consistency, structure and above all CREATIVITY.

Tourism
Together with experts who share our love for Morocco we have created a very strong and professional network from magical Marrakech, Agadir, Merzouga, Essaouira and the rest of Morocco.
From creating an unforgettable wedding to a full business incentive trip or a music video. We can deliver everything you want. Housing, transport, dining, traveling, sports, culture, jetsetting etc. We have very big plans for the tourism business. Stay tuned.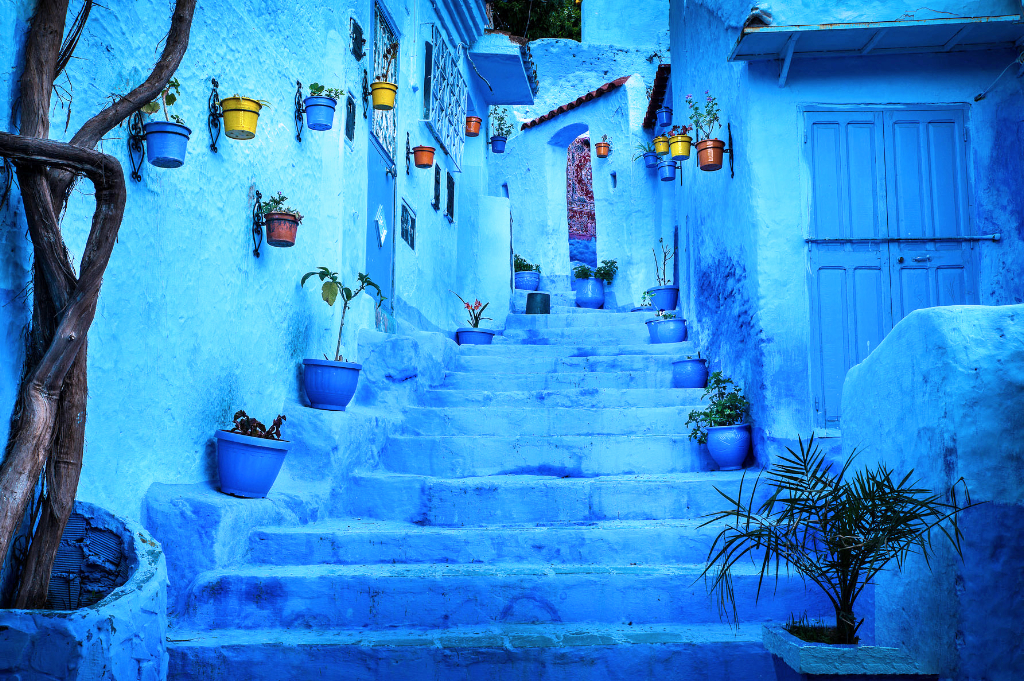 Housing
Maktub has a broad network in every kind of real estate in Marrakech and the rest of Morocco. We prefer to work with clients who understand our global guests. That means we have a very select group that we prefer to work with. Whether it's a "riad" (big house with separate rooms), villa, apartment, tent, auberge, castel etc. We have it all. 
Transport
We have transport available for all types of projects. From segways, quads, buggies, motorcycles, cars, vans, busses up to large touring cars. From basic to the most deluxe and exclusive cars you've ever seen. We even have helicopter and hot air balloon flights available. 
Things to do
Whatever it is you would like to do in Morocco. We have it. We probably even have things you can do here that you haven't thought of yet. For instance you can snowboard and ski in the winter season on some amazing locations near Marrakech. Or cultural activities like museums, expositions, art, etc. We know the best restaurants, clubs, etc. Join us.
Custom Travel
Often we organise customized programmed trips for a certain group or organisation. And we organise business events for companies and their employees. But we also organise our own custom trips. From surfing trips to the coasts, exclusive yoga trips to the sahara and cultural trips to the beautiful blue city of Chefchaouen. Organise your own trip with us or join on of ours.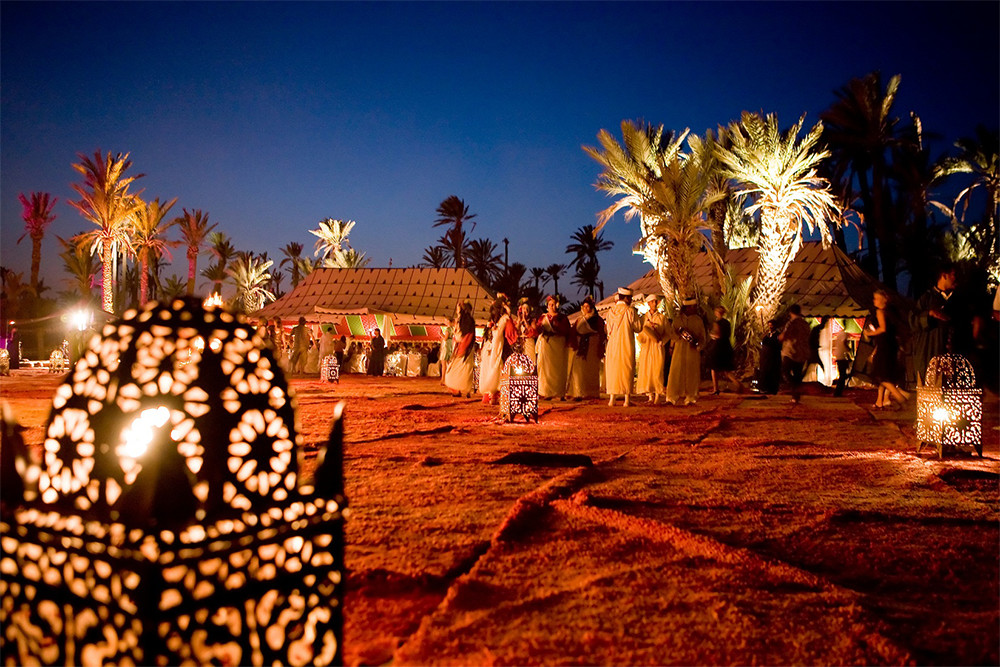 Events
Maktub Creative Agency has the network, creativity and ability to organise events large and small. We have breathtaking locations in and outside of Marrakech and the rest of Morocco. We speak the languages. We know the people. We know how to make events successful, but we also pride ourselves in making the process leading up to it fun and effortless. We emphasise on communication in everything we do. We believe in a long-term relationship. 
Party
We have everything available for your event to succeed. We have DJ's, MC's, dancers, musicians, singers, sound engineers, visual artists and more for every type of event. Whether it's a pool party, roof event or even a one of a kind event in the middle of the Moroccan desert we will arrange it all for you.
Celebrations
Maktub has the expertise and network to make all celebrations a success. From birthdays and bachelors to big exclusive weddings. We will make sure your celebration is one you and your guests will never forget.
Business Events
Maktub has the experience, network and expertise to organise small and large business events. But also help you with ticketing, hostesses, promotion etc. From an anniversary to an incentive. We can include empowerment, coaching, team activities, sightseeing, camel trips, road trips and more. We have it all.
Exclusive Events
Maktub has the power to organise large and small exclusive events. We are currently working on several new events that will take place in the Marrakech area. We work with big event organisers from outside of Morocco to create new and unique events. The rich culture, beautiful locations, pleasant weather conditions and attractive flight possibilities in and to Morocco make it an excellent location for all types of events
Online Business
Holland is a very progressive country when it comes to online business. With only 17 million inhabitants, a very multicultural society and a very strong (online) infrastructure we are leading in the world with online business. For Maktub, everything is about the relationship and it all starts with a conversation. 
Maktub is also a creative agency for online and offline communication, consisting of a very passionate team with a focus on building successful brands. Our creativity is constantly in motion. That's the reason we can continue to surprise and motivate organizations and target audiences.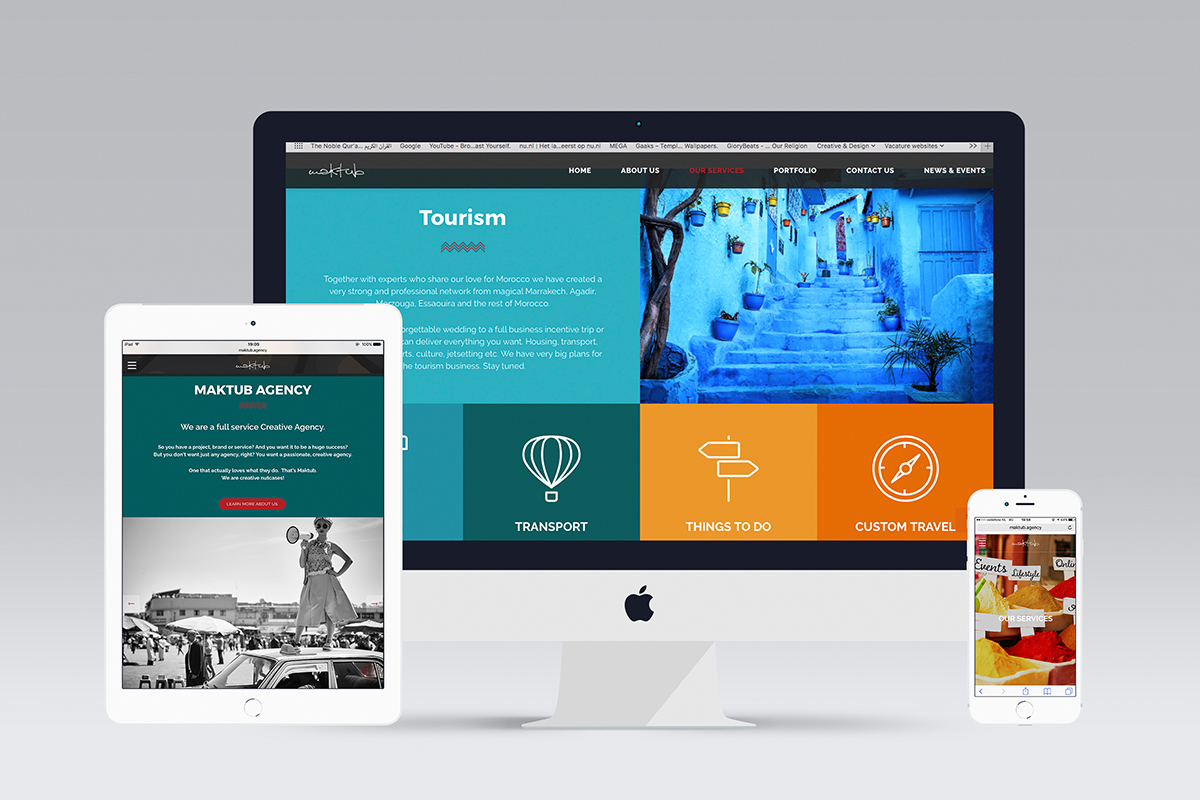 Branding
If your customers identify with your brand identity, they will purchase more of your products or services. Positioning of a strong brand starts with the creation of a recognizable, distinctive character and its own unique story. Our team delivers all these elements by using a solid communication strategy. Both online and offline, we successfully put your brand or organization on the map.
Fri-Fi
Frifi is a social hotspot that is being placed between the wifi and consumer. If a consumer wants to use the wifi he/she will have to login through Facebook or others. The possibilities are endless. You can make your clients stay longer and help you form a good reputation. Our partner is a market leader with clear and easy possibilities that will fully adjust to your business. Connect your customers to your brand now.
Online Marketing
(Online) Marketing is the art and science of selling products and/or services over digital networks, such as the internet and cellular phone networks but also print and media. Online marketing involves finding the right online marketing mix of strategies that appeals to your target market and will actually translate into sales. On- and offline we have the tools, experience and network to make your brand connect with your audience. 
Web Design
The key to attracting new customers is having a functional web design. Every organization needs a website, after all it is your online business card. The online world is constantly in movement and customers use Internet more and more on their mobile. Therefore, we make your website or webshop immediately responsive for your visitors to have an optimal experience on a tablet or smartphone. Making it user friendly even on the smallest screens.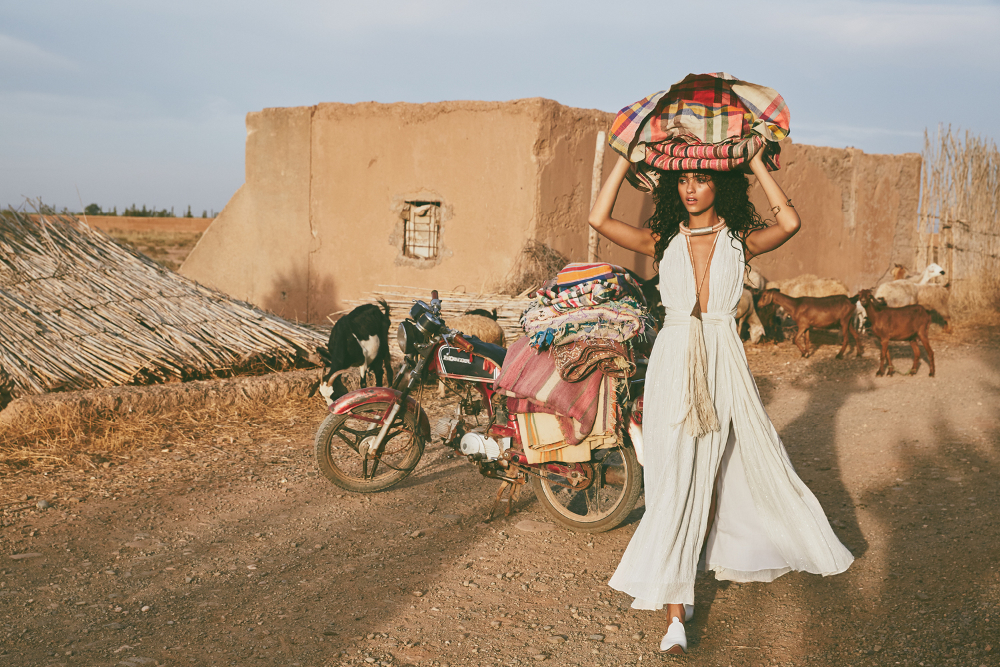 Lifestyle
People are real! Not just Psycho-Demo-Geo data. Therefore, the Maktub approach gives new life to experiential marketing. We understand that your audience has varying lifestyles that includes concerns about health, education, the environment, and many other social issues that pertain how they make buying decisions each day.
We have made it our daily goal to get insights on how those decisions are made. We have determined that customers do not care about your brand until they know how much the brand cares about them. Our answer is simple, we take time to understand your goals and develop strategic solutions that drives the desired result for you.
Photos & Video
Morocco is every photographers or filmers dream. It has rich colors, old vintage locations, endless untouched wildlife, a big variety of inhabitants and much more. The light is often so beautiful that you can make epic pictures or videos with just your phone. Morocco has everything you are looking for in a photo- and or video shoot. Plus most of the time shooting in Morocco is much cheaper then other locations with less variety. We've done some amazing shoots so far of which we are very proud.
Sports
Obviously the vast variety of Morocco makes it an excellent location for several sports. We have guests from all over the world for surf, yoga, wake boarding, mountain climbing, trekking, sand boarding and much more. Because Morocco is just hours away from Europe and at the tip of Africa the location is perfect. The Moroccan culture is also one of the most hospitable in the world. They are known for their generous hospitality and very open culture. All cultures and religions have been living peacefully together for ages. 
Marketing & PR
Maktub is a one stop shop for all marketing projects. We have the creativity, experience and network to make your project a success. We combine our European/Moroccan skills and create marketing tools that are new and refreshing. We make sure that your project will be noticed on- and offline. We have a good team of designers, promoters, hostesses, performers and more ready to take on your project.
Want to use our services?